Mirriad digitally places brands into the content the world watches every day, all post-production, enabling you to schedule campaigns with ease and at huge scale.
The format is also a hit with viewers, with 80% saying they like it and they prefer it 7x over traditional TV ad formats.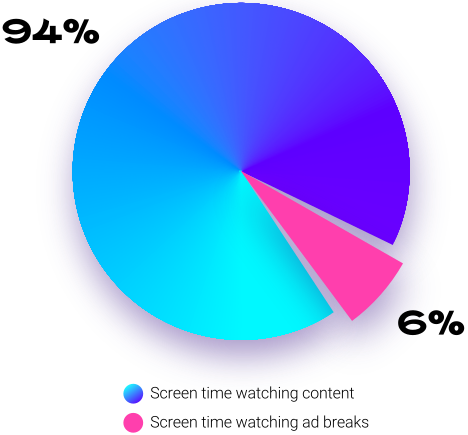 A SCALABLE SOLUTION
Unlike traditional product placement, everything we do is executed post-production. So it's easy to deploy, and crucially, easy to scale, maximizing your exposure and driving higher brand value.
TARGETING WITH CONTEXT
SceneFinder, our patented AI, analyzes thousands of hours of video content across all genres to find the perfect, contextually relevant moments for your brand to connect with your audience.
CREATE REAL EMOTIONAL CONNECTIONS
By identifying emotional context and matching to your brand's viewer profile, SceneFinder enables you to engage with your audience like no other advertising format can.
HIGHER IMPACT, BETTER PERFORMANCE
Adding our in-content advertising to your marketing mix can turbo-charge every aspect of your campaign's performance.
HUGE SCALE
Our global inventory is growing all the time, and currently represents an 82 billion impression media opportunity.
MORE AWARENESS
Our in-content ads deliver increased reach – even amongst ad-avoiding audiences such as Gen Z.
Source: Kantar / Dynata
HIGHER AFFINITY
Through contextual relevance and emotional targeting, our in-content ads help build a strong emotional connection with audiences.
Source: Kantar / Dynata
INCREASED SALES
Our in-content ads are proven to have a positive impact on brand consideration, purchase intent and actual sales.
Source: Kantar
GLOBAL REACH,
LOCAL EXPERTISE
We operate out of 6 offices in the US, Europe and Asia, with local expertise and content partnerships in place to answer any challenge your brand may be facing.
HUNDREDS OF CAMPAIGNS
FOR LEADING BRANDS
CONTENT FROM 130+
PARTNERS WORLDWIDE
Virtual product placement is a leading emerging technology that every advertiser and brand needs to